My life used to be super awesome. I have a gorgeous wife, cool friends, I run an awesome startup. Things were great!

But then something happened recently that completely changed my life.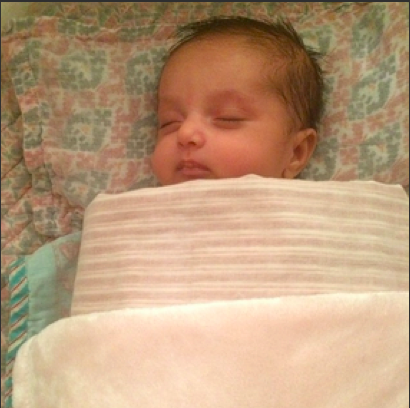 Last year I found out I was going to be a father. Turns out I knew absolutely nothing about babies, so like the (barely) millennial I am, I turned to the internet to figure out what to do. Suddenly I was bombarded with ads for everything from toys to baby formula. But none of this content actually helped me make any decisions or learn how to be a better father.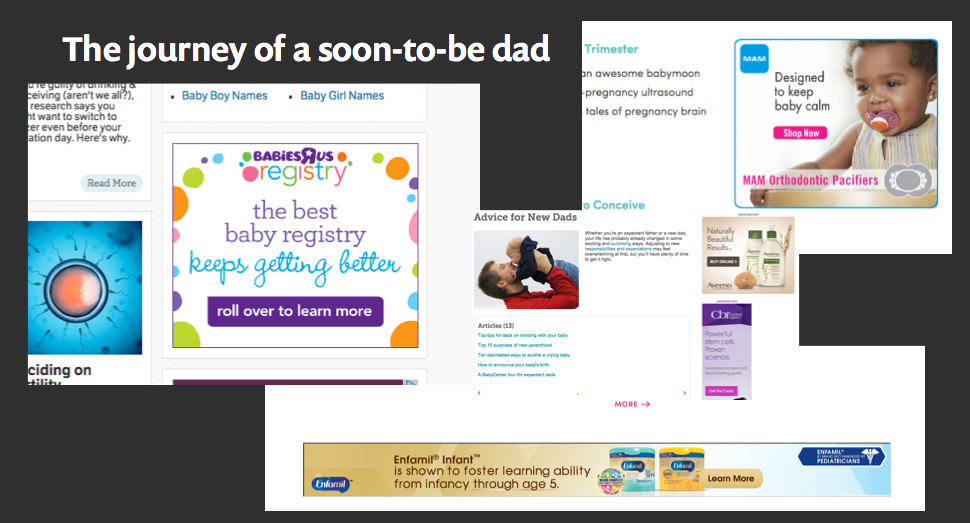 But then I came across the Huggies Mommy Answers blog. I'm not saying this because Huggies is a client, but their blog is incredible. They walk you through the parenting process from pregnancy to your baby's first steps, and their content is intuitive, helpful, and easy to understand. I finally felt like I wasn't going to totally screw this up.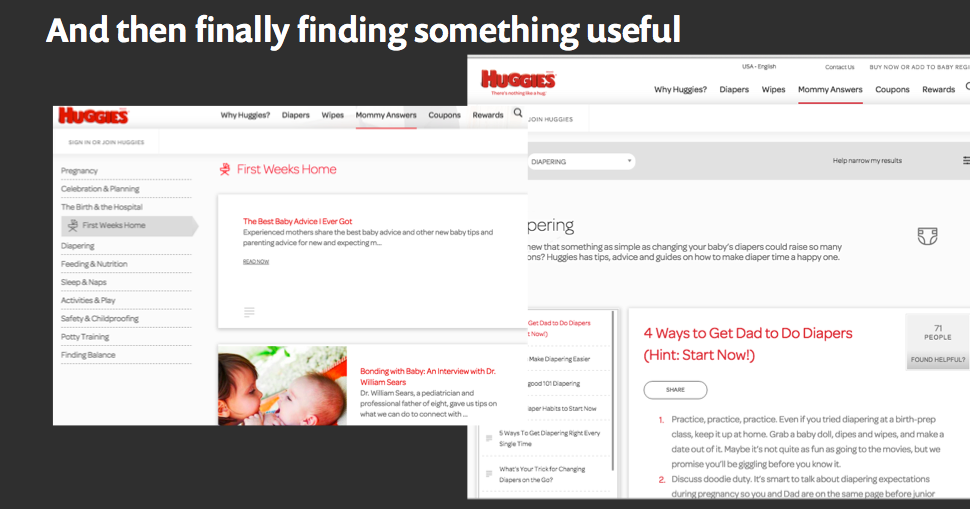 So when our baby arrived in January, we bought Huggies products. They had already brought me this far, and they were top of mind when it was time to buy. Their content strategy turned me into a loyal customer.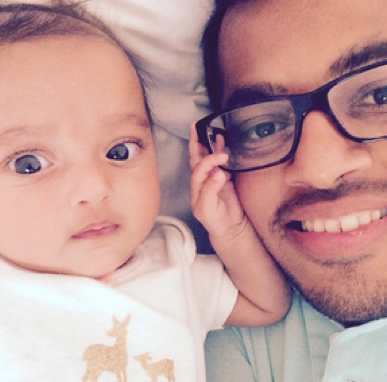 At NewsCred, we've realized that there are 5 principles to building an amazing content marketing strategy:
1. Our Identity Is Defined By What We Share
2. The Content Journey Is The Customer Journey
3. Treat People Like People Not Data Points
4. Purpose Drives Purchase
5. Your Product Is Not What You Sell
Let's dive in to each of these.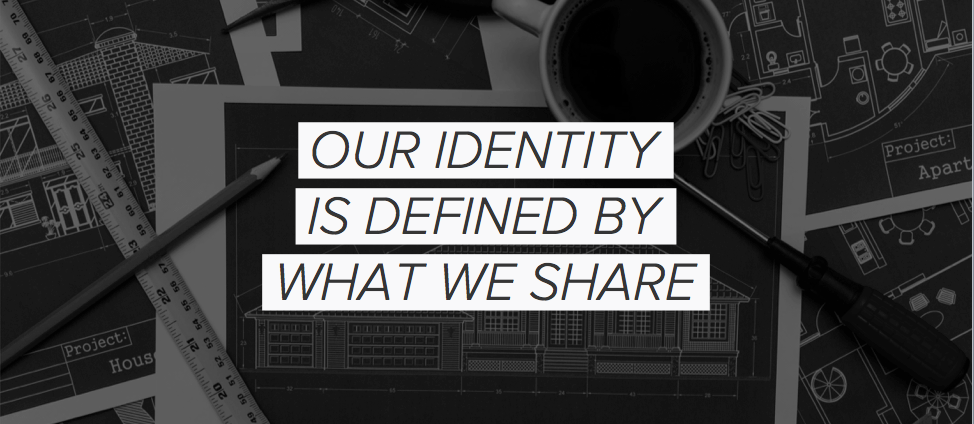 68% of people share content to give others a better sense of who they are and what they care about.
According to BuzzFeed's research, people share content to express three things: culture, opinion, or emotion. 
Culture: This video from BuzzFeed will resonate with anyone who has lived in New York City longer than 15 minutes. In less than a month, this video got over 9M views.
Considering a little over 8M people live in New York City, arguably everyone in New York City watched this at least once. When you create content, try to think about what your audience or customers go through on a day-to-day basis and how you can frame your content marketing in a way that resonates with them.
Emotion: This Beats By Dre short film has nothing to do with headphones. But anyone who has played (or maybe even watched) a sport understands the anxiety and anticipation before a big game – much less the World Cup. This video received over 30M shares during month of the World Cup because it makes you FEEL something. Even if you don't particularly care for soccer you can't watch this video without getting goosebumps. How can your brand create content that makes people feel things so intensely they need to share them?
Opinion: There are very few people in this world less opinionated than cat people. They love their cats and they're not afraid to let the world know. This video has over 23.5M views because people really love cats! By sharing and watching this they're saying, "This is SO me!" When you create your content strategy, think about the identity of the person you're trying to reach and create content that resonates with them specifically.

We're seeing time and again that customers want to do their own research when it comes to major life events and purchase decisions – just like I did when I found out I was going to be a dad. And 70% of the buyer journey has been completed by the time they're ready to buy. The truth is, 96% of people visiting your site aren't ready to purchase from you. So you need to think of other ways to drive prospects back to your site with great content so when they are ready to buy, they'll choose you.
Also, when you're building for these customer journeys, owned properties matter. You need to own an audience and own the property where they arrive and can keep coming back. 45% of NewsCred's traffic comes from email – an audience we own and can access directly.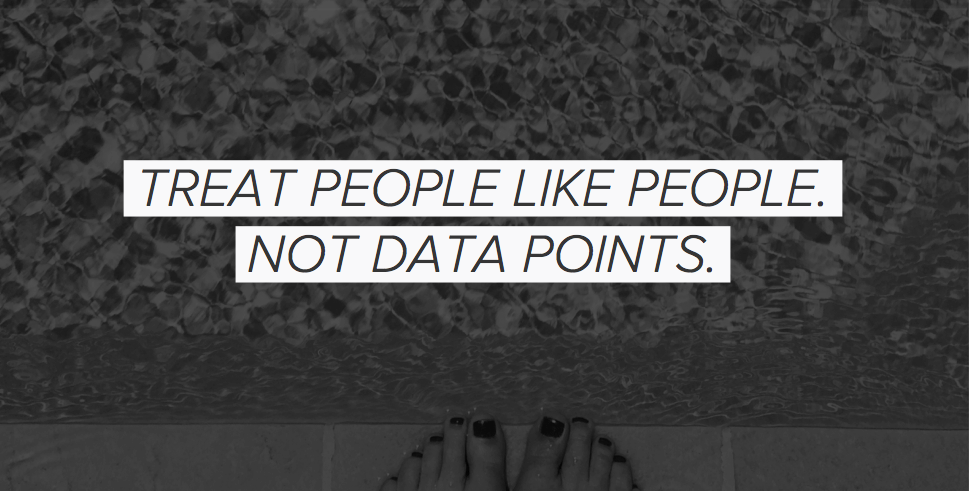 Behind every Tweet, like, or share is a person. When you take a step back and think about it… do you really know who your audience is and what they care about? I'm not talking about buyer personas or demographics. I'm talking about the most influential people that matter to your brand – who they are and what do they want? What content do they read and share? How do they engage with your competitors?
Luckily, there's an app for that.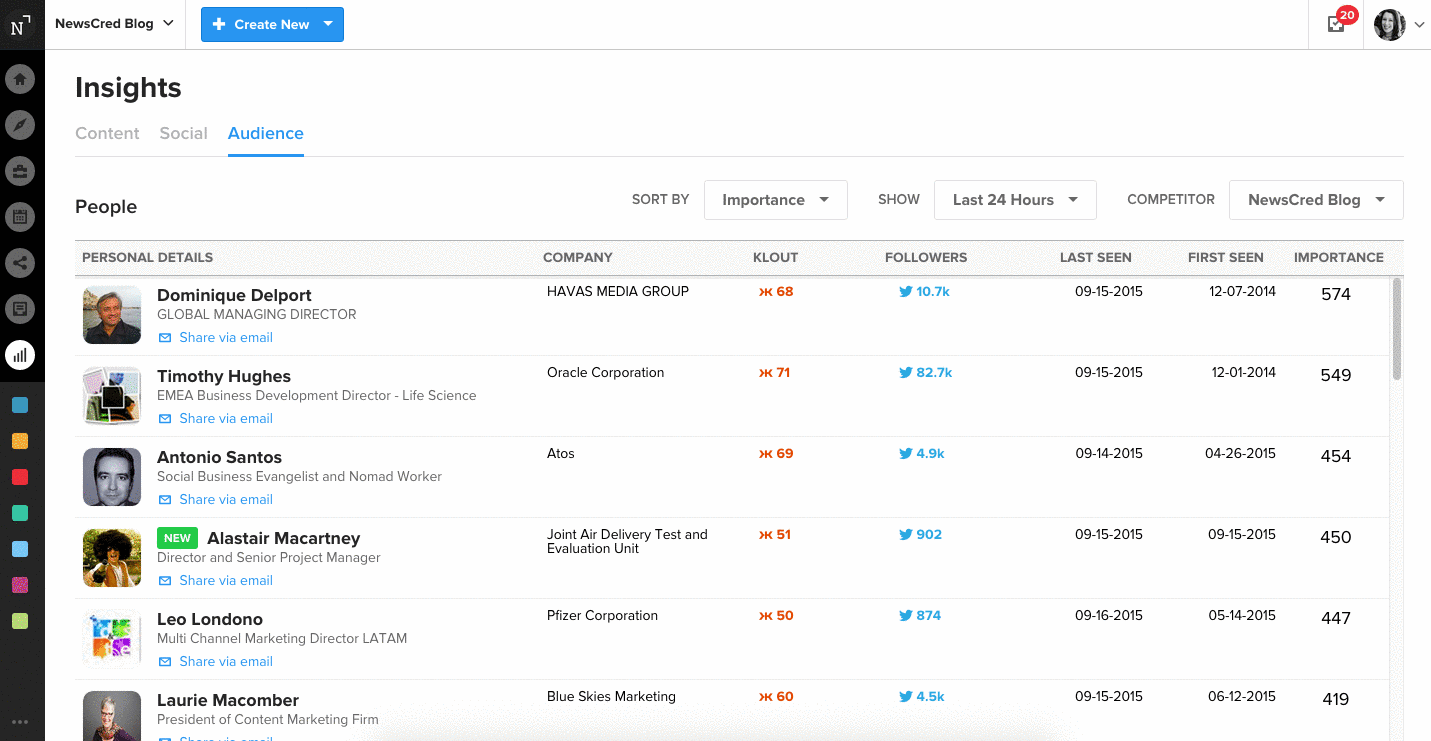 NewsCred's Audience Insights tool shows you the entire customer journey of your audience and your competitors'. We use it for our own audience research and content marketing strategy. Why? It's not about reaching more people, it's about reaching the right people. We believe that if marketers are empowered to reach the right people, everything else becomes easier to optimize, like time, channels and messages. This enables brands to get more value from their content and paid media spend, while also saving time and resources.
Personalized content converts 42% better and results in 270% increase in content consumption. In today's always-on mobile world, customers expect brands to go above and beyond to get their attention. By targeting specific people on social who already interact with your brand you can easily map the content journeys of those important to your brand, amplify your paid media campaigns by targeting these people, or reach them with nurture or demand gen campaigns.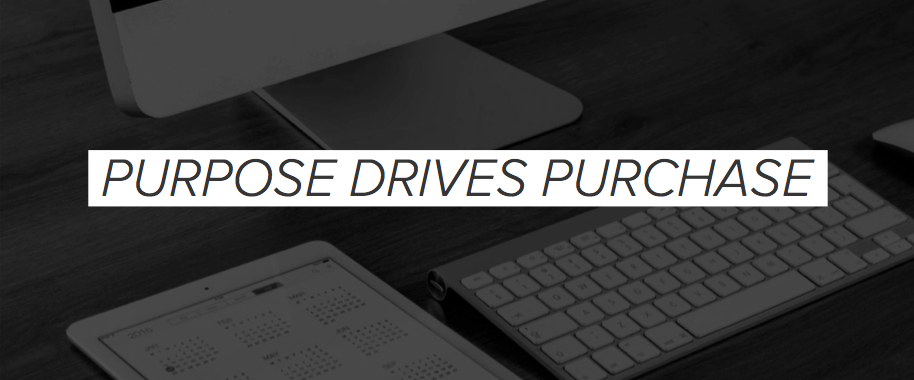 Pulling from a unique ten year growth study involving 50,000 brands, Jim Stengel, former GMO of Proctor & Gamble, figured out that the world's 50 best businesses — as diverse as Method, Red Bull, Lindt, Petrobras, Samsung, Discovery Communications, Visa, Zappos, and Innocent — have a cause and effect relationship between financial performance and their ability to connect with fundamental human emotions, hopes, values, and greater purposes. In fact, companies who focus on connecting with their customers have a growth rate 3X that of their competitors. And brands that can connect to consumers with their purpose can drive sales.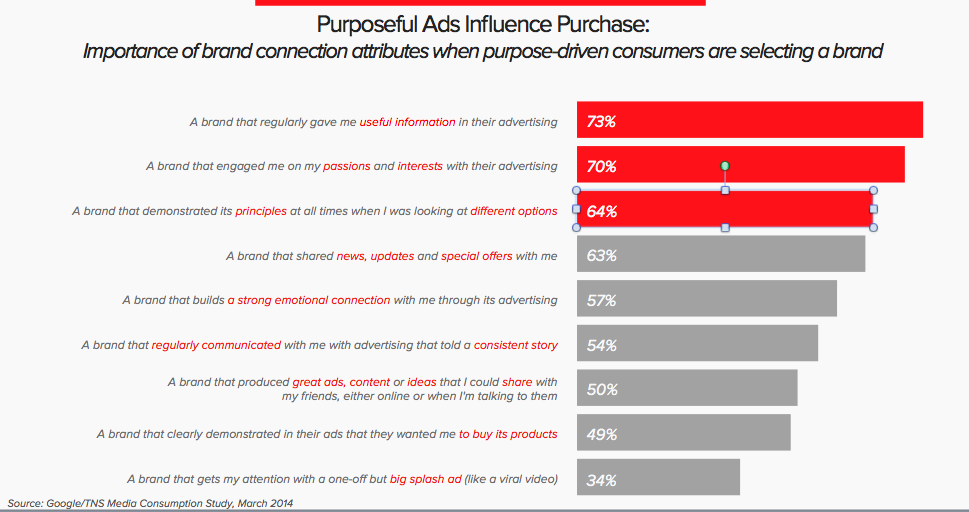 Going back to personalization and relationships – brands that communicate in a way that captures people on a personal level are much more likely to capture the attention of a buyer. Transaction-based messages are no longer effective and have no place in building a longterm relationship. Over 42% of consumers prefer when a brand engages them over interests and passions rather than focusing on a sale. 
Take the "Like a Girl" campaign from Always. Since having a daughter, this campaign has taken on a whole new meaning for me. Giving the purpose of girl power to a brand like Always may not have been the obvious choice for their marketing team, but it certainly has had an impact on their brand and their business.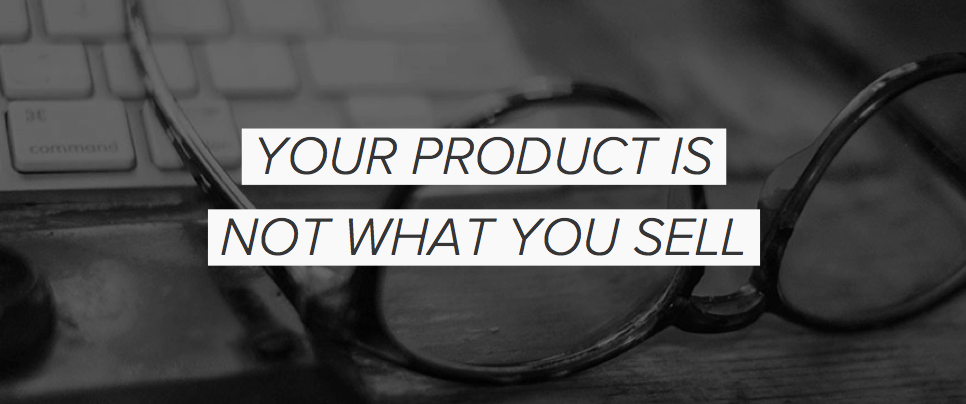 Your product is not what you sell. If you believe you are just your product, you WILL be disrupted. It's not an if, but a when. Think about it – Uber, the world's largest taxi company, owns no vehicles. Facebook, the world's most popular media owner, creates no content. Alibaba, the most valuable retailer, has no inventory. And Airbnb, the world's largest accommodation provider, owns no real estate. As Clay Christensen put it in Innovator's Dilemma: delivering on a future need, providing future value, that's disruptive innovation.
At its peak, Kodak captured 90% of the US film market and was one of the world's most valuable brands. They actually invented the first digital camera in 1975. But the company had the nearsighted view that it was in the film business instead of the storytelling business. What they needed was a new business model for an environment in which people do not 'preserve memories' but 'share experiences.' Companies have to adapt to the requirements of the market, even if that means competing with themselves. In this environment, marketers should strive for entrepreneurial greatness and innovation, not to just determine preference among existing options. Marketing is not the art of selling products, as Kodak thought. Smart marketing is about providing a company's customer base value and satisfaction.
While Kodak may have lost sight of its purpose, there is a company in California doing a pretty damn good job. The word camera only appears twice on their website. Instead, they talk about capturing and sharing experiences.
The world's most versatile cameras are what we make. Enabling you to share your life through incredible photos and videos is what we do.
Your product is the customer experience – and GoPro clearly has this figured out. The way that we make consumers feel along the buyer journey is incredibly important and has a lasting impact on their relationship with your brand. Your product is the value that you bring to the world. Technology is just the tool that enables you to delver it.
In every culture, knowledge is the most important "thing." It's a universal, human value that marketers can tap into and build an everlasting business upon. If you're in financial services, you're not selling home loans, you're teaching people how to invest in their future. That's why Bank of America has partnered with Khan Academy to teach financial literacy, and LinkedIn acquired Lynda to encourage people to keep learning.
It's the opportunity (and responsibility) of marketers to educate the world. To help people do better and live better.
Even Nike invests in camps and training schools that teach kids how to golf.
The world's best brands think of their businesses as a value exchange. 
This is why traditional advertising doesn't work – consumers get no value. If you give knowledge, education, inspiration, or empowerment, people will give you attention, and they will give you dollars. In this new value exchange, content is the new currency. Content is no longer a nice to have, it's an imperative. It is the way you create value for your customers. And every brand, including B2B, can find ways to inspire people interested in their product. It's about finding the interests and passions of your customers and connecting with them over these interests through content marketing. Create content that lets them immortalize their biggest feats, overcome their biggest obstacles, or maybe even guides them through the craziest thing that's ever happened to them.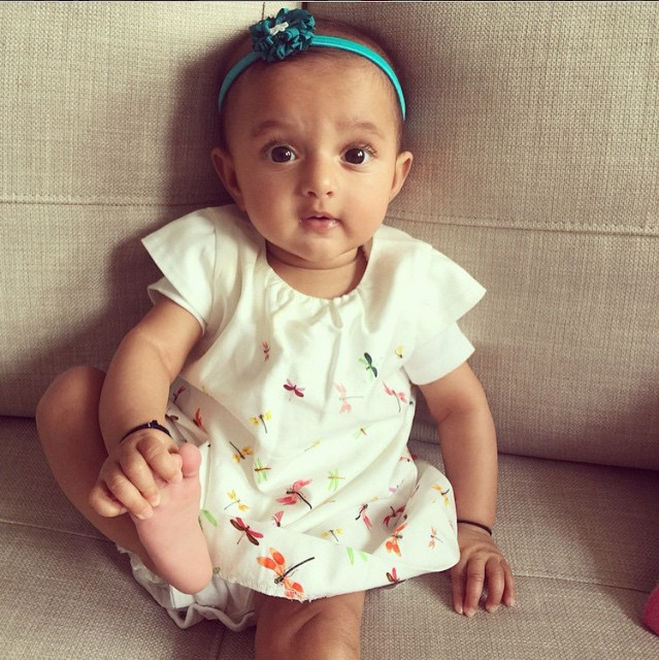 Shafqat Islam is CEO and cofounder of NewsCred
Thank you for subscribing!
Our best content will now come straight to your inbox.